Discover the hotel services and the unforgettable breakfast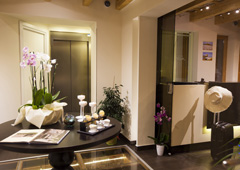 Hotel Trapani In makes available to its customers free wifi in the whole building and the possibility to deposit your bags freely even if your times don't coincide with check-in and check-out.
Car can be parked near our hotel by the seaside of the harbour.
We are very close to the bus stop to and from Birgi Aerport, close to coaches visiting Palermo, very close to the embarkation for cruises, restaurants and the finest and most charateristic area of the city.
The Breakfast in Hotel Trapani In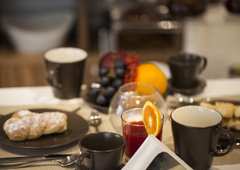 Hotel Trapani In wishes your customers a good morning with an abundant and unforgettable breakfast made of natural and genuine tastes that will be served from 7,15 to 10 in our breakfast room.
At your awakening you could taste fragrant brioches with sugar, fresh-baked apple pies, fruit tart, tasty croissants and also a great choice of jams, honey, nutella, ricotta deliciousness. Fresh fruit and yogurt.
Who loves salted breakfast can find a great choice of cold cut and cheese that, combined with sicilian bread,will delight you.