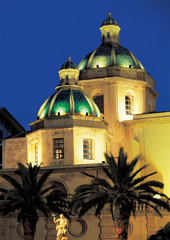 Trapani is an enchanted place rich in art, history and culture, rich in signs of the past still alive in the city.
Every corner of the city of Trapani is to discover and to tell, is a reminder of past ages, of deep and multi-ethnic roots.
In Trapani you'll be certainly fascinated: natural and cultural unusual views framed by a landscape suspended between sky and sea ..
The most western part is certainly the most charateristic: it hosts the harbor, has like background Egadi islands and on its extremity, set on a little island, it offers a view of the Colombaia, a medieval fortress composed of an octagonal tower and four superimposed planes.
Proceeding westwards we arrive then at Ligny Tower, an ancient spanish watchtower with a square shape that now houses the Museum of Prehistory with amphorae, artifacts and tools of the prehistoric era of Trapani and from whose terrace you can enjoy a breathtaking panorama: the view goes from Capo San Vito to Erice, you can see Marsala, Trapani, the Egadi islands and the islet of Formica to finish with an impressive cliff that divides the Tyrrhenian Sea from the Mediterranean Sea.
Another area to visit is invariably the historic center with the Matrix with its Baroque façade, historic buildings from the high artistic value as Cavarretta Palace and the many churches such as: the Church of Purgatory, the Church of San Domenico, the Church of San Pietro, the Church of St. Augustine.